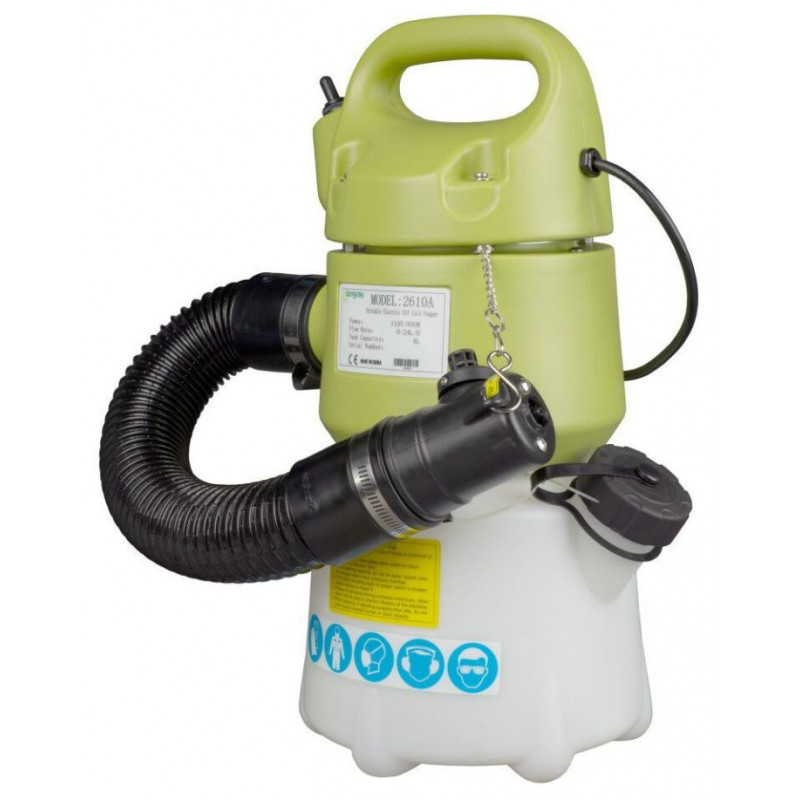  
Longray Basic Cold ULV Fogger with Adjustable Flow and Flex-Hose
The Longray Basic Cold ULV Fogger with Adjustable Flow and Flex-Hose is designed to be picked up and carried around for manual, directed spraying. The vertical form factor can also be strapped to a small folding cart (not included) and wheeled around.

Security policy (edit with module Customer reassurance)

Delivery policy (edit with module Customer reassurance)

Return policy
Cold/ULV electric fogger: Produces fine, 5-50 micron droplets. Turn flow-control knob to change flow rate (0-15 oz/min). 1.1 gal tank. Powered from a standard wall outlet - no propane, no gasoline, and no emissions (other than your fog).
Functional, portable design: At bottom is a generously-sized, detachable solution tank with easy-fill valve and capacity scale. The top is a carrying handle so you can take your fogger anywhere. 18-inch Heavy-duty Flex-Hose.
Built to last: Clog-resistant vortex nozzle. Solution tank made from rugged, chemical-resistant polyurethane. One-way valve protects the motor from liquid backflow.
Compatibility: Works with water and oil-based pesticides, disinfectants, deodorants, and fogging agents that are labelled for ULV fogger or cold fogger use.
Manufacturer support: 1 year warranty. U.S.-based technical support. Replacement parts available.
Data sheet
Droplet size

5-50 micron

Spray distance

15 ft

Flow rate

0-15 oz/min

Capacity

1.1 gal

Hose

18 in

Electric motor

800 W

Weight

7.4 lb

Dimensions

17.5 x 15.0 x 8.5 in

Weight (shipping)

9.3 lb
Compatibility: Works with water and oil-based pesticides, disinfectants, deodorants, and fogging agents that are labelled for ULV fogger or cold fogger use. Here are some examples (there are many more):
For mosquitos:
Permanone Ready-to-use
Scourge 4+12 insecticide
Scourge 18+54 insecticide
Permanone 31-66
Fyfanon ULV
Zenivex E60
Permanone 30-30
MASTERLINE KONTROL 4-4
Anvil10+10
Duet
PyroFos 1.5 ULV
AQUA-RESLIN