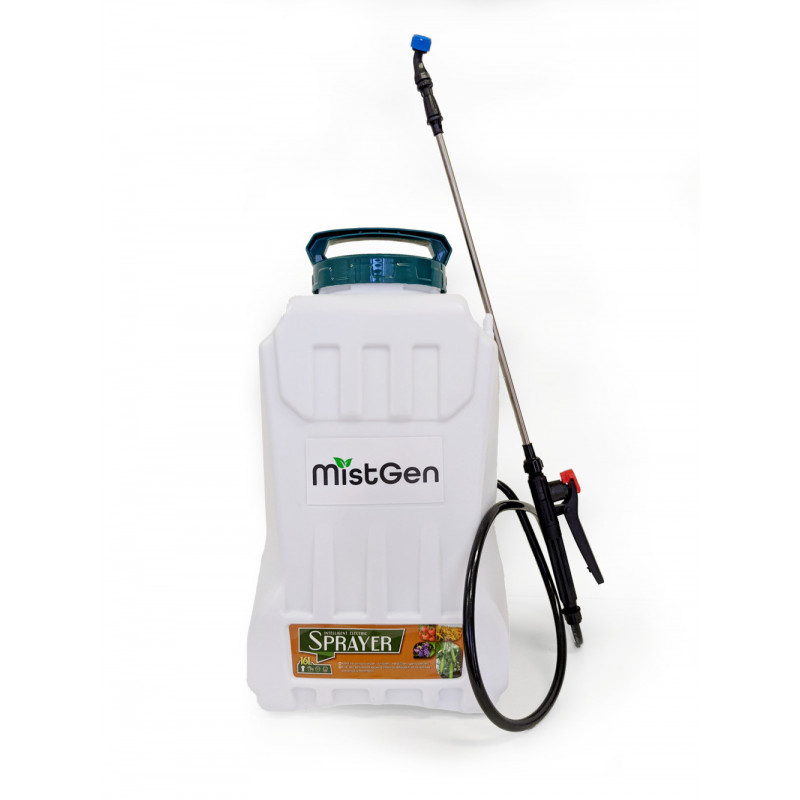  
MistGen Lightweight Li-Ion Battery Backpack Sprayer (4 gallon, 96 Wh)
The MistGen Lightweight Li-Ion Backpack is one of the lightest 4 gallon backpack sprayers, weighing only 9.5 lb empty, thanks to the integrated Li-Ion battery.

Security policy (edit with module Customer reassurance)

Delivery policy (edit with module Customer reassurance)

Return policy
Light on your back: Empty weight only 9.5 lb (full weight depends on tank fill level, up to 42.5 lb). Foam-padded back for comfort.
Rechargeable Li-Ion Battery: Lasts up to 5 hours of spraying (pumps up to 95.1 gal). No hand-pumping, no propane, no gasoline, and no extension cords needed
Adapts to you: Includes cone-spray and fan-spray nozzle. Press the trigger to spray, or click the continuous-spray lock to rest your fingers. Motor speed knob can be adjusted while spraying. Wand is extendable (16 to 32 inch).
Solution tank: Holds up to 4.2 gal, so you spend less time refilling. Translucent so you can see tank level. Easy-fill 6-inch wide opening (accessories packed inside).
Manufacturer support: 1 year warranty. U.S.-based technical support. Replacement parts available.
Data sheet
Flow rate

11.1-26.9 gal/hr

Capacity

4.2 gal

Hose

4 ft

Weight

9.5 lb

Dimensions

21 x 12 x 18 in

Battery

12V 8Ah Li-Ion (integrated)

Weight (shipping)

11 lb

Working pressure

21.8-58.0 psi

Battery life

5 hours

Battery recharge time

8 hours
Product manual:
PDF
Returns:
Returns accepted within 30 days. 15% restocking fee for non-defective returns.
Warranty:
1 year