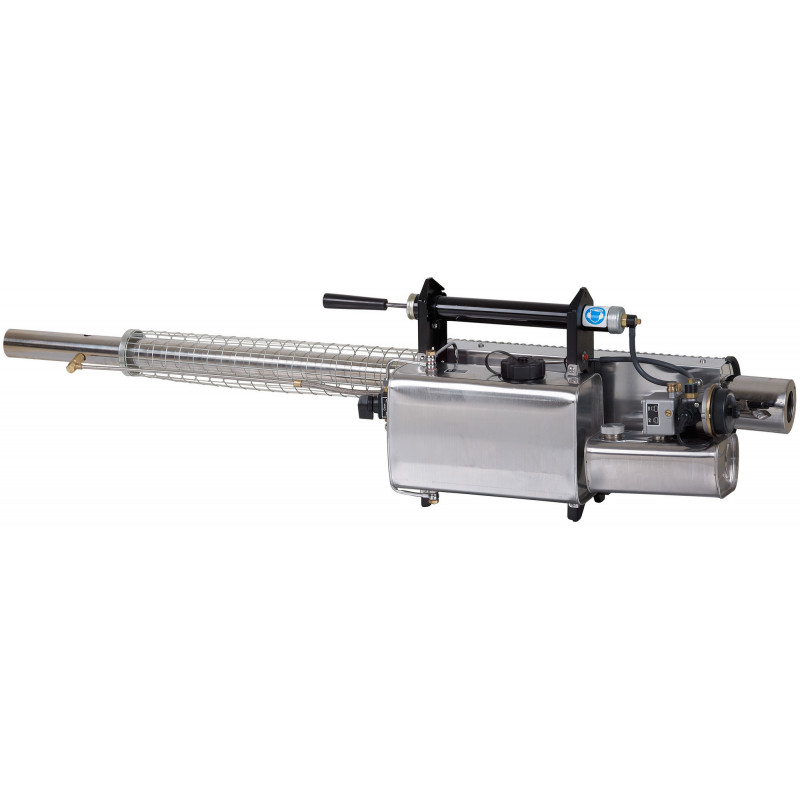  
Longray Pulse-jet Thermal Fogger (2nd-gen)
A well-made thermal fogger, built from stainless steel and viton parts. Sprays fog faster, finer, and further than cold/ULV foggers.

Security policy (edit with module Customer reassurance)

Delivery policy (edit with module Customer reassurance)

Return policy
Thermal fogger: A powerful fogger that makes finer droplets (0.5-50.0 micron droplets) than Cold/ULV foggers, and sprays farther (20-115 ft) and faster (11.1 oz/min). Buyer should be comfortable operating a loud, gasoline-powered machine.
Making pulse-jet technology affordable: The Longray Pulse-jet Thermal Fogger (2nd-gen) brings the benefits of thermal fogging - increased spraying distance, finer particle size, wireless operation - within reach of more value-conscious users.
Built to last: The pulse-jet engine is reliable and low-maintenance, with no moving parts. Fuel and solution tank made from corrosion-resistant stainless steel. Cooling jacket and protective safety shield are also stainless steel. All seals, gaskets, and diaphragms in contact with the solution are made from Teflon or Viton.
Compatibility: Works with pesticides, disinfectants, fogging agents meeting these requirements
Manufacturer support: 1 year warranty. U.S.-based technical support. Replacement parts available.
This is a thermal fogger that runs on gasoline, and is intended for those who have experience operating thermal foggers or professionals. For first-time users, we instead recommend one of our ULV foggers. Before purchase, please be sure you are comfortable working with a thermal fogger -- there are no open box returns for this product. View the accompanying training DVD before starting, and contact us if you need help.
Data sheet
Droplet size

0.5-50.0 micron

Spray distance

20-115 ft

Flow rate

11.1 oz/min

Capacity

1.6 gal

Weight

17.4 lb

Dimensions

53.9 x 10.6 x 12.2 in

Battery

4 x D batteries

Weight (shipping)

29 lb

Working pressure

0.2 bar

Engine power

25.2 hp

Fuel consumption

0.4-0.5 gal/hr

Fuel capacity

0.4 gal
Works with pesticides, disinfectants, fogging agents meeting these requirements: (1) oil-based (preferred) or water-based, and (2) labeled for thermal fogger use. Here are some examples (there are many more):
For mosquitos:
Permanone 30-30
MASTERLINE KONTROL 4-4
Anvil10+10
Duet
PyroFos 1.5 ULV
AQUA-RESLIN
Permanone 10% EC
Zenivex E20