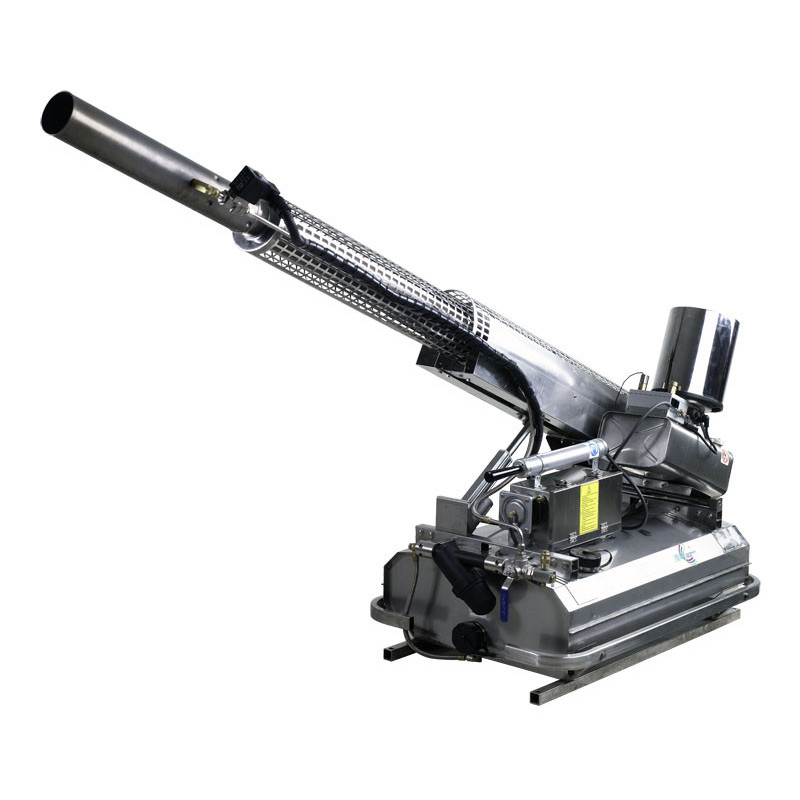  
Longray Truck-Mount Thermal Fogger
Truck-mountable, high-volume thermal fogger with remote control.

Security policy (edit with module Customer reassurance)

Delivery policy (edit with module Customer reassurance)

Return policy
Two mounting options: (1) Installed on a flatbed truck, controlled by an operator in the cabin. (2) Installed stationary on the ground, remotely controlled by the operator a safe distance away.
Remote control: Operator can start, stop, raise, and lower the fogging tube from the comfort and safety of the truck cabin.
Top-of-the-line thermal fogger: 5X the flow rate and 10X the capacity of a typical handheld thermal foggers.
Built to last: High-grade stainless steel for the chemical tank, fuel tank, fogging tube and resonator, cooling jacket and protective shielding. Seals, gaskets, and diaphragm in contact with chemical are made from corrosion-resistant Viton or Teflon.
Trusted by professionals: This model has been widely used for mosquito control, pest control, public health protection, and in sanitation.
This is a thermal fogger that runs on gasoline, and is intended for those who have experience operating thermal foggers or professionals. For first-time users, we instead recommend one of our ULV foggers. Before purchase, please be sure you are comfortable working with a thermal fogger -- there are no open box returns for this product. View the accompanying training DVD before starting, and contact us if you need help.
Data sheet
Droplet size

0.5-50.0 micron

Flow rate

0-100 L/h (oil-based) 40 L/h (water-based)

Capacity

15.9 gal

Weight

103.6 lb

Dimensions

78.7 x 23.6 x 29.5 in

Battery

12V Li-Ion battery

Weight (shipping)

220.5 lb

Engine power

50 hp

Fuel consumption

1.1 gal/hr

Fuel capacity

1.3 gal
Works with pesticides, disinfectants, fogging agents meeting these requirements: (1) water-based or oil-based, and (2) labeled for thermal fogger use. Here are some examples (there are many more):
For mosquitos:
Permanone 30-30
MASTERLINE KONTROL 4-4
Anvil10+10
Duet
PyroFos 1.5 ULV
AQUA-RESLIN
Permanone 10% EC
Zenivex E20
Returns: Returns of never-opened boxes accepted within 30 days (15% restocking fee). Open-box returns accepted only if manufacturer at fault (no restocking fee).

Warranty: 6 month