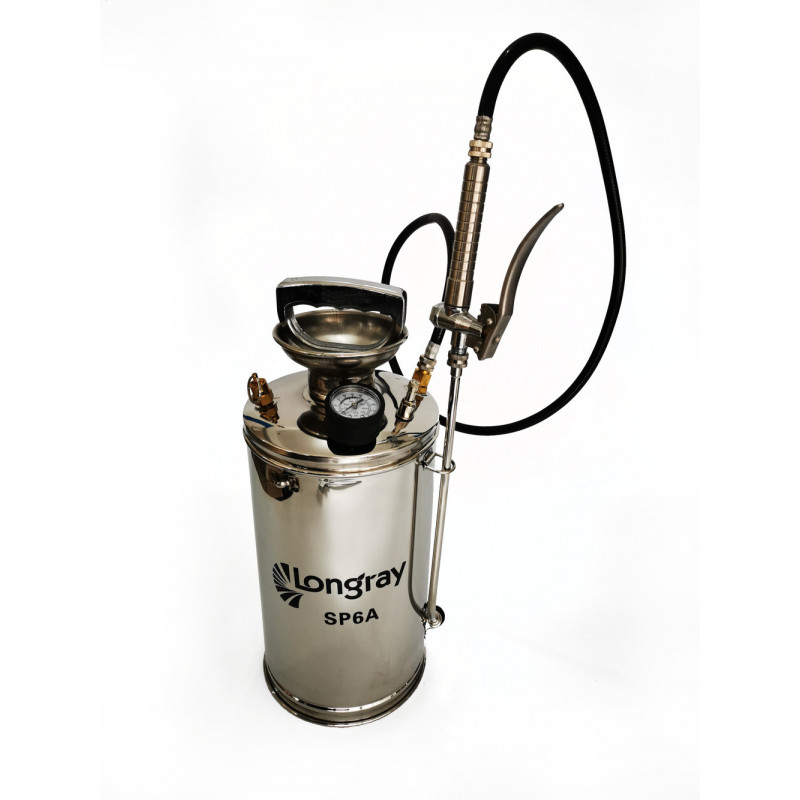  
Longray Stainless steel hand-pumped sprayer (1.5-gallon)
Crafted from stainless steel - not cheap plastic - with Viton seals and gaskets. Built-in pressure gauge and tire valve.

Security policy (edit with module Customer reassurance)

Delivery policy (edit with module Customer reassurance)

Return policy
High-quality materials: The pump, tank, cover, wand, pump handle, and wand handle are all made from corrosion-resistant stainless steel. Many competing stainless steel sprayers have plastic pumps, covers, or handles. Seals made from corrosion-resistant Viton.
14-inch curved spraying wand: Spray into the spaces under, between, and above objects, with almost no effort.
Works anywhere: The pump handle with lock doubles as a carrying handle, and a carrying strap is included. Hand-powered means no extension cords or wall outlet needed.
2 ways to pressurize: Pump it by hand, or connect a tire pump to the built-in Schrader valve.
Please do not use with bleach, chlorine, xylene, or strong oxidizers.
Pressure gauge: Pump to a precise tank pressure. Monitor pressure while you spray.
Data sheet
Spray distance

3-10 ft

Capacity

1.5 gal

Hose

48 in

Weight (shipping)

7 lb

Working pressure

30-50 psi

Max pressure

70 psi
Compatible with water and oil-based pesticides, disinfectants, deodorants, and fogging agents.
Do not use with oxidizers and other substances that corrode stainless steel, such as bleach, chlorine, and salt water.
Product quickstart:
PDF
Returns:
Returns accepted within 30 days. 15% restocking fee for non-defective returns.
Warranty:
1 year